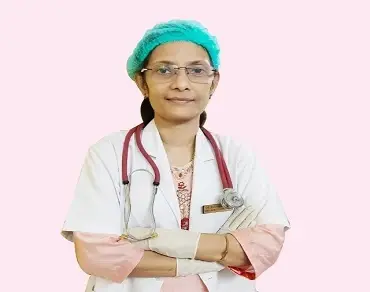 Infertility(IVF) Specialist
234/235 Near Laddu Gopal Patliputra Colony
Phone: 8051761659 | 9771038137
Sunday Closed.
Email: vatsalyamamta@gmail.com
DR. RASHMI PRASAD
MBBS, DGO, PGD in ART and Reproductive Medicine IVF SPECIALIST DOCTOR IN PATNA, BIHAR
---
Meet the Bihar's No. 1 IVF Specialist- Dr Rashmi Prasad.
Dr.Rashmi Prasad is most experienced and one of the best qualified and trusted secialist in the field of IVF and Fertility With over more than 20+ years of experience in Gynaecological Laparoscopic Surgery, High Risk Pregnancy, Laparoscopic. Dr.Rashmi Prasad has treated over more than 65000+ successful IVF couples.She did her MBBS from the reputed University of Bihar in 1992, There after she completed her DGO(Diploma in Obstetrics and Gynaecology) from the University of Bihar in 1996. Apart from this, Dr Rashmi has also completed her PGD (Postgraduate Diploma) from the University of Schleswig Holstein-Kiel, Germany, in Art & Reproductive Medicine in 2020.
Her areas of treatment include IVF, IUI, ICSI, Ovulaltory Disorders Recurrent Miscarriage, Endometriosis and Surrogacy.She's also the founder of Diwya Vatsalya Mamta Fertility Centre. Dr.Rashmi Prasad does performed more than 40000+ cases of IVF.She has achieved exceptional results in egg donor surrogacy having a success rate of over 75 %. Dr.Rashmi is a pioneer in the field of IVF. She has been working since 2010. She has over 65000+ successful IVF cycles to her credit. She specializes in the treatment of recurrent miscarriages, endometriosis, and ovulatory disorders.
She has operated some major and critical fertility operations in the clinic and has even helped 68 years old and 58 years old ladies conceive a baby through IVF. Dr. Rashmi Prasad is a member of various national and international societies. She has special interests in vitro fertilization (IVF), reproductive endocrinology, PCOD, male infertility issues, and endometriosis..She will provide you with a personalized treatment method according to your unique medical history and the reason for infertility. You should consult her if you are looking for the best infertility specialist in Patna, Bihar. She practices in both male and female infertility treatment by employing state-of-the-art medical technology at an affordable cost. She is one of the best IVF specialists in Bihar, with a high IVF success rate.